Porcelain Veneers in El Paso, TX
It can be difficult to feel confident when dental imperfections cause you to feel self-conscious about your smile.
Dr. David A. Cenk can repair tooth cracks, chips, discoloration, and other cosmetic dental problems with natural-looking porcelain veneers.
Learn more about the benefits of this versatile treatment at our El Paso, TX, dental practice...
---
Three Main Advantages of Treatment
We recommend dental veneers to many of our El Paso, TX, patients who are unhappy with certain aspects of their teeth. They offer three distinct benefits:
Quality
At Redd Road Family Dental in El Paso, our veneers are made from high-quality porcelain that can be color-matched to your surrounding teeth for natural-looking results.
Versatility
Our dental team offers both veneers and Lumineers® to conceal almost any surface-level cosmetic issue, including chips, cracks, misalignment, gaps, and stains.
Longevity
Porcelain is an exceptionally durable and stain-resistant material. With proper care, porcelain veneers can last for 10 years or more before needing replacement.
---
See The Difference Yourself...
Before — Intrinsic stains are rooted deeply within the tooth structure and distract from the smile.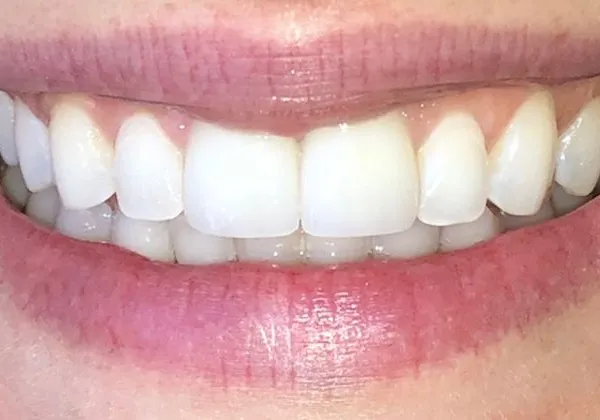 After — When whitening fails, a set of veneers will create a white, dazzling smile with long-lasting results.
---
Veneers Address Many Different Problems
THEY CAN FIX:
Chipped | Cracked | Discolored | Misshapen | Misaligned | Overcrowded | Gapped
---
A Beautiful Smile Is Within Reach
If you hide your smile because of imperfections in your teeth, porcelain veneers may be a life-changing solution for you. Dr. Cenk and the team at Redd Road Dental Family use veneers to treat numerous dental flaws and give patients a smile they feel confident in. Dr. Cenk has decades of experience helping patients improve their smiles, and uses the latest dental technology to achieve breathtaking results. For more information, we invite you to contact us online to ask a question. You can also reach us by phone.
---
A Closer Look At Porcelain Veneers
Porcelain veneers are ultra-thin, custom-designed shells that our dentist secures to the front surface of a tooth to conceal chips, cracks, stains, and slight misalignment. We craft our dental veneers from premium tooth-colored porcelain for its life-like appearance and resilient durability
While your upgraded smile will look unbelievably stunning, people will think you just have great natural teeth!
---
Factors Affecting Candidacy
There are a few candidacy requirements for porcelain veneers.
Sufficient Enamel
Traditional veneers require a certain amount of enamel so it can be removed and allow the veneers to sit flush with your surrounding teeth. If your natural enamel is thin or weak, our dentist may recommend an alternative procedure to get you better results.
Good Oral Health
Patients with conditions such as tooth decay and gum disease will first need treatment to restore their oral health. Bruxism (teeth grinding) can also impact the success of veneers and should be addressed prior to your cosmetic upgrades.
Ready for Permanent Change
Porcelain veneers will need periodic replacement and maintenance about once every ten years. The procedure is not reversible. While traditional veneers are not the best choice if you are not ready to commit to upkeep, our dentist can offer a less permanent alternative with Lumineers.
Lumineers
THE LOW-COMMITMENT ALTERNATIVE TREATMENT
Traditional veneers require some alteration to your enamel so they can fit naturally under your gums and lie flush with adjacent teeth. If you are not looking to make permanent changes to your smile, our dentist can provide an alternative solution. Lumineers® are an even thinner version of dental veneers that can be placed on a tooth without altering the structure. There are also same-day options that can be placed in just one appointment for rapid enhancement.
While Lumineers are better suited for some dental conditions over others, they can deliver effective, natural-looking transformations for the right patient. During your consultation at our El Paso office, Dr. Cenk will examine your smile and help you choose the optimal type of dental veneer for your needs.
Maintaining Your New Teeth
Caring for veneers is pretty simple and similar to a standard good dental hygiene routine. Make sure to follow these tips to ensure your veneers last as long as possible.
Floss With Care
Patients may need to alter the way they floss their teeth to avoid dislodging their veneers. Pull the thread through your teeth from front to back rather than up and down, as it can snag the edge of the veneer.
Be Mindful Of Stains
While your porcelain veneers are resistant to stains, your natural teeth are not. To make sure your smile stays a consistent shade of white, avoid foods and drinks that are known to cause discoloration.
Prevent Cracks
Just like any of your teeth, your veneers can sustain damage when put under extreme pressure. Prevent cracks and wear by staying away from extremely hard or sticky foods.
Visit the Dentist
Attend regular check-ups for exams and cleanings. If your restoration does happen to crack or fall off, call our office and we will schedule you an appointment as soon as possible to make repairs.